Even this early in, hunger is not wasting any time. I find myself snacking all morning and beyond excited for lunch. I didn't need to do much diet change since I already ate and snacked pretty healthy to begin with, but I am doing it a lot more. I see why they compare the size of a baby to fruit because that seems to be all I'm eating.
I personally do not eat red meat or pork and also have a dairy allergy. I can eat dairy, I just go into coughing fits which is not very pleasant right now with my uterus expanding. This can cause some protein and iron issues for me so I've been actively searching how to introduce more to my diet to make sure this baby get's all the nutrients it needs.
One recipe I came across which has been filling me up a lot more than my snacks is the The Best Everyday Smoothie from @thrivinghome. It has a ton of the foods I need and provides a load of nutrients to the babe. I made a few substitutes to fit my liking, but it's quite delicious and thankfully, I'm not starving 20 minutes after eating it.
The Best Everyday Smoothie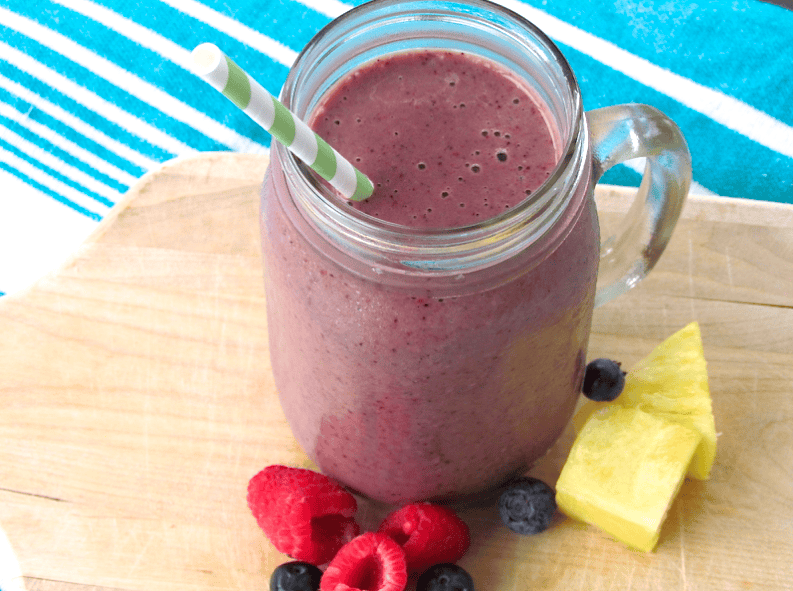 Author: Thriving Home
Yield: 6 cups (4 servings) 1x
---
Description
Seriously delicious and seriously healthy. We have this smoothie almost everyday!
---
Ingredients
1 cup milk (I used Sweetened Vanilla Silk)
1 cup orange juice
1/2 cup Greek yogurt (plain or vanilla)
4 cups spinach, loosely packed
1 banana (a frozen banana makes it even creamier)
2 cups frozen blueberries (or frozen berry blend)
2 cups frozen tropical fruit (we use a mix of mango, pineapple and strawberries)
---
Instructions
Add milk, juice, yogurt, spinach and banana to a high-powered blender. Blend until smooth.
Add frozen fruit. Blend again until smooth. Enjoy!
---
Notes
Freezer Meal Instructions:
To Freeze:
After making the smoothie, freeze it in a freezable mason jar, leaving at least an inch at the top.
To Prepare:
Place in the refrigerator overnight to thaw. Stir with a spoon or throw in the blender again with a few ice cubes.